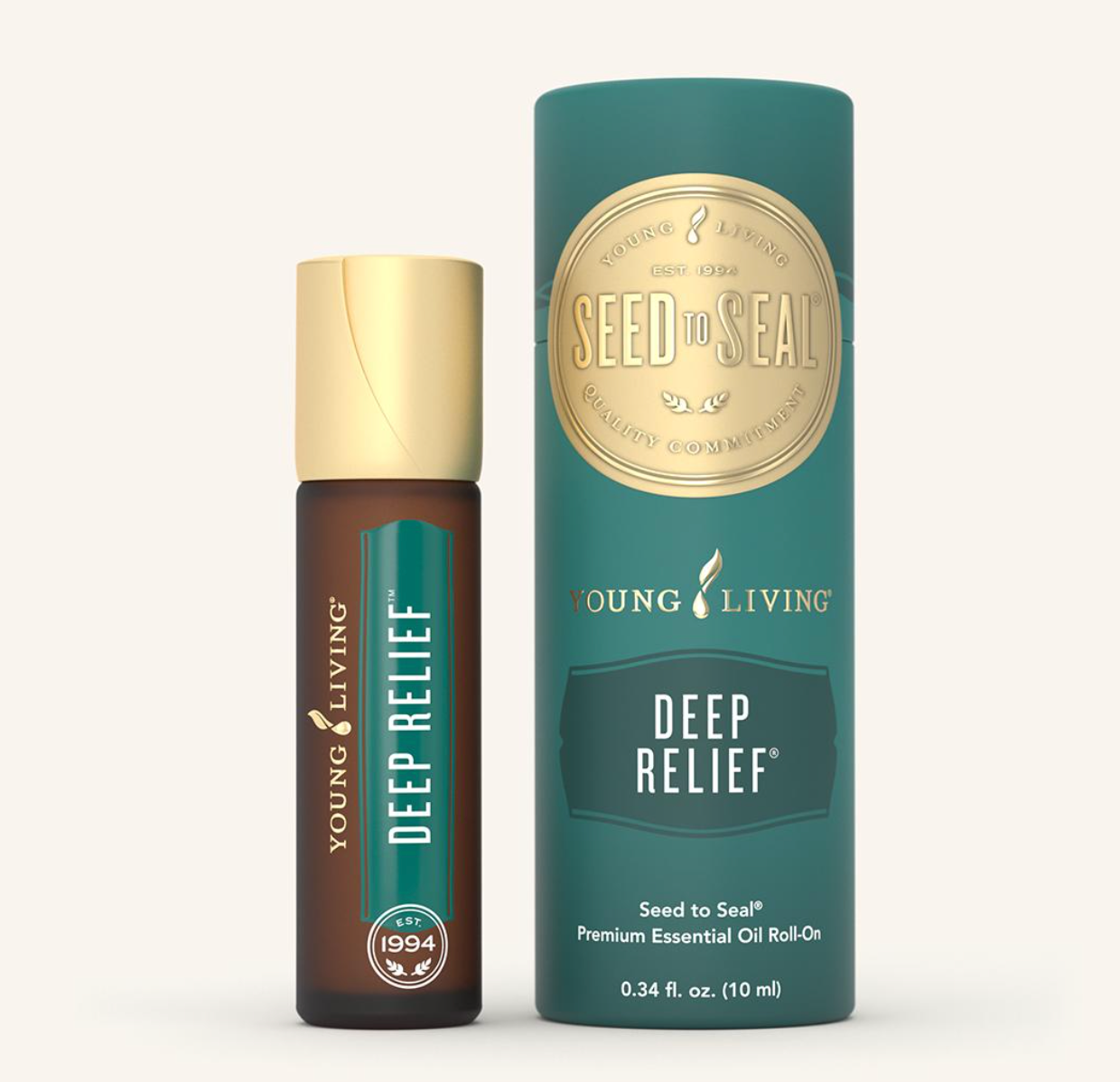 YoungLiving.
Young Living Deep Relief™ Roll-On makes essential oils such as Peppermint, Wintergreen, Dorado Azul, and Helichrysum convenient for a fast-paced lifestyle. This blend of popular oils is a great companion for your trips to the gym and busy daily routine.
Oils such as Peppermint and Wintergreen provide a refreshing, cooling sensation during or after a workout, with an invigorating scent that inspires an upbeat and energetic approach to whatever keeps you active. The convenient roll-on packaging makes this product an easy addition to your gym bag or purse so you can reach for it whenever you like.
Deep Relief Roll-On Essential Oil Uses:
Treat yourself to an on-the-go mini massage with Deep Relief oil along the nape of your neck and shoulders or onto any other area you choose.
Use the energizing scent during your gym session when you need a quick break. Swipe it across your neck, temples, forehead, or chest to recharge before you get back to work.
Keep Deep Relief in your office or living room for a quick pick-me-up and cool, refreshing sensation.
How to Use
Directions: Apply generously on temples or back of neck.
Caution: Keep out of reach of children. Possible skin sensitivity. Avoid contact with eyes. If you are pregnant, nursing, taking medication, or have a medical condition, consult a health professional prior to use. Avoid direct sunlight or UV rays for up to 12 hours after applying product.
Storage: Keep in a cool, dark place.
Ingredients
Mentha piperita† (Peppermint) oil, Caprylic/ capric triglyceride, Citrus limon† (Lemon) peel oil, Abies balsamea† (Balsam Canada) needle oil, Eugenia caryophyllus† (Clove) bud oil, Copaifera officinalis† (Balsam copaiba) resin, Cocos nucifera (Coconut) oil, Gaultheria procumbens† (Wintergreen) leaf oil, Helichrysum italicum† flower oil, Vetiveria zizanoides† (Vetiver) root oil, Hyptis suaveolens† (Dorado azul) seed oil
†100% pure, therapeutic-grade essential oil
Shipping
Fast shipping
We will process your order in 2-3 business days and it will typically take 5-7 business days to be shipped via UPS Ground and USPS Priority Mail within the Continental United States. We will always strive to streamline the process and get your products to you sooner.
Order tracking
ShopRaby.com uses UPS Ground and USPS Priority and First Class Mail, all with tracking, for shipping all orders.
Return Policy
We do not accept any returns or offer refunds on our products at this time
You may email us any questions at email  shopraby@rabyintegrativemedicine.com
About us
Healing in the Heart of Chicago
At the Raby Institute we know that convenience is something our patients value. We strive to make it easy for our patients to make healthy lifestyle choices.  As part of our integrative approach, patients can purchase a variety of total wellness products at our onsite apothecary: Alma ("Soul" in Spanish), or online at ShopRaby
Inspiration for a Healthier Mind, Body, and Spirit
Along with nutritional and lifestyle interventions, evidence-based nutraceuticals can complement and expedite the healing process.Our friendly and knowledgeable Alma staff is always happy to help you select items recommended in your individualized plan. We can also recommend skin and bodycare, books and home and gift items to complete your wellness journey. Browse our carefully curated selection of gifts and goods to improve your health and elevate your spirits.
Discover Wellness
We take the process of choosing items to enhance your wellness very seriously to ensure they meet the highest quality standards. 
Each product is carefully researched by our product specialist and thoroughly evaluated by Raby Institute physicians and practitioners. 
Our patients can feel confident that our supplements are not only safe and pure, but have been formulated to be effective and deliver proven results.
FAQ
What is the return policy?
We do not accept any returns or offer refunds on our products at this time. 
Exchanges (if applicable)
We only replace items if they are defective or damaged. If you need to exchange for the same item, send us an email at support@rabyinstitute.com and send your item to: Raby Institute 500 N Michigan Ave Suite 2100 Chicago Illinois US 60611.
What should I do if I have lost my package?
All ShopRaby packages include tracking numbers, which you have access to as soon as the shipping label is created. If your package appears to be 'lost', please alert ShopRaby and your carrier (USPS or UPS).
It may take us a few days after you have alerted us to investigate the 'lost' package. Please let us know if your 'lost' package is found as a result of your inquiries with the carrier or just through passage of time. There are many possibilities and circumstances surrounding 'lost' packages; and we will work on your behalf to locate your package as expeditiously as possible. Each 'lost' package will be evaluated individually and typically replacement of lost packages shall be completed within a reasonable time period after the investigation period.
If you require your order more quickly, you may call The Raby Institute at 312-276-1212 ext 400 to place a phone order and request a different shipping method. 
How do I track a shipment?
ShopRaby.com uses UPS Ground and USPS Priority and First Class Mail, all with tracking, for shipping all orders.
When do I qualify for free shipping?
Users get FREE SHIPPING on orders $120 and over.